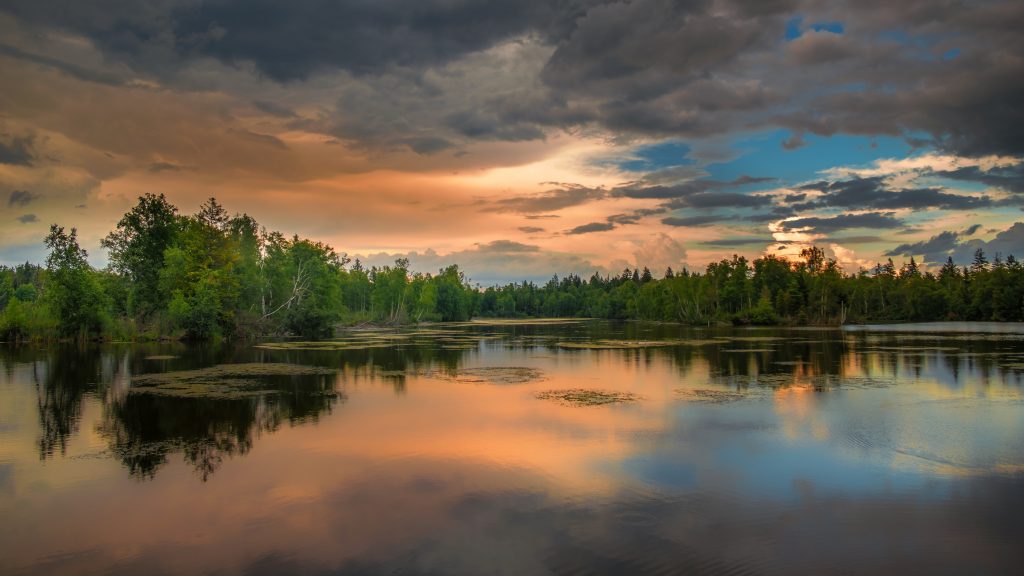 Valencia Water Control District
Located In Orange County, Florida
PURPOSE
The District's Plan of Reclamation (also known as Water Management Plan) calls for a controlled storm run-off that will prevent erosion and flooding, minimize water pollution, and maintain groundwater tables for the benefit of the landowners. In order to achieve these goals, several miles of canals, bridges, control structures and other appurtenances have been constructed. The District will accept retention/detention ponds for maintenance in residential areas when constructed to District standards.
In 1972, the Board of Supervisors approved a bond issue in the amount of $3.5 million in order to construct the Plan of Reclamation. The bonds were retired on January 15, 1997.
RESPONSIBILITIES
The District is required to prepare an annual budget and establish a unit tax that will provide for the administration of the District affairs, and maintain existing facilities. The individual lot holder is assessed at the same rate as the landholder owning one acre of land. The tax is collected by the Orange County Tax Collector and is shown separately on the annual tax bills.
The District issues irrigation permits to homeowners requesting access to District waters for the purpose of yard sprinkling, issues construction permits for all development within the District, and monitors for compliance with permit conditions.
The District cooperates with developers, the state, and local agencies having common interests and jurisdiction. The District administers the election of the Board of Supervisors in June. Proxy ballots are mailed to all property owners of record and the ballots are tabulated in the District office.
Valencia Water Control District (originally Valencia Drainage District) was formed in 1970 under Chapters 298 and 72-291 of Florida Statute. A decree incorporating the Drainage District was issued by the Circuit Court of Orange County in May of 1970.
For more Information regarding the VWCD, Please contact the Management Offices at:
Governmental Management Services-Central Florida, LLC
219 E. Livingston St.
Orlando, FL 32801
Tel: (407) 841-5524 x.101
Valencia Water Control District
George Flint, District Director
gflint@gmscfl.com
Public Records
District Documents
NOTICE OF PUBLIC RECORD REQUEST
THE CUSTODIAN OF PUBLIC RECORDS FOR THE DISTRICT IS GOVERNMENTAL MANAGEMENT SERVICES- CENTRAL FLORIDA, LLC. TO REQUEST PUBLIC RECORDS FROM THE DISTRICT YOU MAY CONTACT THE CUSTODIAN AT 1219 E. LIVINGSTON ST. ORLANDO FL, 32801 TELEPHONE: 407-841–5524 FAX: 407-839-1526 EMAIL: RECORDREQUEST@GMSCFL.COM
BOARD INFORMATION
Von Ingle

Deputy Secretary

Amanda Whitney

Supervisor

5200 Vineland Road, Suite 200

Orlando, FL 32811

Term Expires: 06/2024

E-mail: awhitney@parksquarehomes.com

Brian Andrelczyk

Deputy Secretary

Sea World

7007 Sea Harbour Drive

Orlando, FL 32821

Term Expires: 06/2026

Debra Donton

Deputy Secretary
Board of Supervisors




Meeting Dates
Fiscal Year 2023:
---
Valencia Water Control District will hold their regularly scheduled public meetings for the Fiscal Year 2024 to be held the second Tuesday of each month at 1:00 P.M. at the
Lake Ridge Village Clubhouse
10630 Larissa Street
Williamsburg, Orlando, Florida 32821
October 10, 2023 – CANCELED
November 14, 2023
December 12, 2023
January 9, 2024
February 13, 2024
March 12, 2024
April 9, 2024
May 14, 2024
June 11, 2024
July 9, 2024
August 13, 2024
September 10, 2024
Management Services
GOVERNMENTAL MANAGEMENT SERVICES LLC – CENTRAL FLORIDA
Governmental Management Services (GMS) is a family of limited liability companies that was established on November 26, 2004 for the purpose of providing special district management services to Community Development Districts (CDD). GMS currently has offices in Orlando, St. Cloud, Ft. Lauderdale, Tallahassee, Port St. Lucie, St. Augustine, and Jacksonville, Florida, and Knoxville, Tennessee. GMS currently manages over 130 Community Development Districts across the State of Florida.
219 E. Livingston St.
Orlando, Florida 32801
Tel: (407) 841-5524 or (877) 855-5251
Fax: (407) 839-1526
Contact Info
District Counsel
Mr. Steve Broome, P.A.
920 1/2 Delaney Ave.
Orlando, FL. 32806
407-257-6338
sfbroome@mac.com
District Engineer
David Mahler
CPH Engineer
1117 E. Robinson Street
Orlando, FL. 32801
407-425-0452
dmahler@cphengineers.com

Florida Public Records Notice: Emails to and from Community Development District's are public record according to Section 119 Florida Statutes. For more information, please see http://www.myflsunshine.com/.
Florida Public Records Notice: Emails to and from Community Development District's are public record according to Section 119 Florida Statutes. For more information, please see http://www.myflsunshine.com/.